Excellence is doing whatever you do as well as you can do it right now while simultaneously learning how to do it better the next time.
In 1998, Dan Coughlin founded, The Coughlin Company, Inc., a firm focused on educating for-profit and nonprofit executives to consistently deliver excellence in management, leadership, and teamwork. He serves primarily as a teacher and coach on leadership and management excellence. He provides:
His client list includes McDonald's, Toyota, Kiewit Corporation, Affiliated Distributors, Marriott, BJC HealthCare, Coca-Cola, GE, Anheuser-Busch InBev, McCarthy Building Companies, Shell Oil, RE/MAX, Subway, Abbott, Prudential, Boeing, Cisco Systems, American Cancer Society, and the St. Louis Cardinals. Since 1998 he has worked with more than 200 organizations.
His approach is being down-to-earth, friendly, encouraging, patient, results-focused, honest, firm, engaged, respectful, open-minded, caring, collaborative, prepared, and challenging.
It's an approach that avoids arrogance, rudeness, putting people down, sarcasm, negative judgments, and belittling other people's efforts.
Dan's core belief is that any employee can make a significant difference in an organization, but no one is born with the traits necessary to make a significant difference. These are learned thinking traits.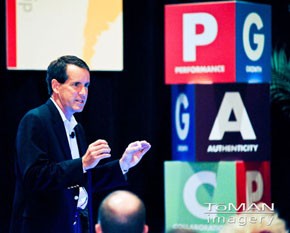 Dan Coughlin giving the keynote address at the Shell Oil North American Marketing Conference.
He is the co-author of the book, The Any Person Mindset: Be Accountable to the Difference You Can Make, which has been endorsed by Seth Godin, Jason Jennings, and Marshall Goldsmith.
He has provided more than 4,000 Executive Coaching sessions to more than 250 business leaders. He has also provided over 500 presentations on management, leadership, and teamwork. His organizational consulting work focuses on people management, culture, strategy, branding, and innovation.
Quoted in USA Today, Investor's Business Daily, The Journal of the American Management Association, and dozens of other publications, Dan Coughlin's articles have been published in more than 100 trade association publications.