Dan Coughlin's 3 Main Presentations for Keynotes or Workshops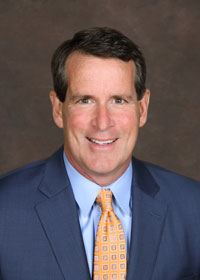 Focus on the Fundamentals of People Management
Games are won or lost over fundamentals. The same is true in business. Management is the ability to convert resources into improved results. In this highly interactive, practical session, we dig into the fundamentals of managing a group for long-term success.
We will concentrate on how to:
Clarify, attract, hire, place, develop, and retain the type of people you want in your organization.
Continually strengthen your culture by reinforcing beliefs that drive consistent behaviors across your organization.
Establish your organization's strategy by defining the business you are in, the desired outcomes for your customers and your organization, and what you will do to achieve those outcomes while operating within your defined business.
Make decisions that can help build your brand.
Innovate so your customers gain greater value.
Accelerate Your Impact as a Leader
Leadership is the ability to influence how other people think so they make decisions that improve results in a sustainable way. Leadership is not based on title, income, or authority level. It is a skill that can be mastered over time.
We will focus on:
Clarifying why you do what you do for a living.
Answering The 4 Critical Leadership Questions.
Learning 8 ways to influence how other people think.
Address the 3 Great Leadership Challenges: you need wisdom, you need to deliver it effectively, and you need people to trust you.
Understanding your Self in order to lead others.
Build Teamwork that Works to Win
A team is a group of individuals who support one another toward fulfilling a meaningful purpose and achieving important outcomes. Teamwork is rare, but oh so worth the journey and the results. It's a special experience to be a part of a true team.
We will discuss:
Establishing your team's quest.
How collaboration can be the highest form of business acceleration.
How to communicate with empathy by working to understand what the other person is thinking and feeling, and then responding appropriately.
How to maintain a sense of urgency even in the absence of emergency.
Watch Dan Coughlin in action
Passion Comes From Purpose, Not the Other Way Around
Dan Coughlin's Keynote Speech Demo Video
Testimonials on Dan Coughlin's Keynote Speeches from Senior Executives
Anheuser-Busch InBev
"When I first met with Dan Coughlin to talk about my team, I had no idea what I was getting into. I was surprised and ecstatic with the depth of research Dan used to plan our day-long seminar on leadership. The day flew by thanks to Dan's enthusiasm, willingness to listen, and the diverse plan of activities. Dan has a very simple approach to leadership and provided my team with some good, repeatable strategies to improve performance. The feedback I have received has been all positive. I look forward to working together with Dan in the future."
McDonald's
"Dear Dan, I want to thank you once again for your compelling presentation to our East Division leadership group of franchisees and staff at our Division Leadership Council meeting. All of us agreed that we walked away with a refreshed enthusiasm around how we can accelerate our impact as leaders. One of the most insightful concepts from my perspective was the idea of owning our leadership styles versus trying to be chameleons. It's not about trying to be everything to everyone, but instead it's imperative to listen, engage, be transparent and collaborate to drive results. In addition, the idea that 'great business leaders are great historians' – meaning we need to remember what and who got us to where we are today – really resonated with me and I think the reminder was key for everyone in the room. Your simple, actionable direction re-grounded us and reminded us to focus on what we're all trying to achieve. Thank you for sharing your insights and spending the afternoon with our leaders."
Prudential
"Dear Dan, thank you for your keynote speech at The Prudential Forum in Scottsdale, Arizona. I have received terrific feedback regarding your presentation based on our theme of Accelerate, Generate, Innovate as well as your follow-up workshop. We're still collecting audience feedback, but some of the comments were:

'He is one of the best presenters I have ever seen. Lots of 'steak' with the sizzle.'

'He really did his research and the audience was really engaged.'

'Great speaker … very inspirational and it was helpful that he left us with tools to apply.'

"The extensive research that you did to not only tie your message to ours, but to make it relevant and timely to our audience showed in everything, up to and including the handouts that you formatted to support our secondary theme of Sustainability."

"Thank you again for sharing your boundless energy and insights with our audience… your presentation not only lifted spirits, but also provided focus to deliver results in a very challenging market environment."
GE Capital
"Dan, I want to thank you for the tremendous job you did presenting at our recent GE Capital Retail Finance HR Leadership meeting. Your session, "Accelerate Your Strengths: Practical Ideas to Boost Business Momentum", provided numerous insights for the team to work on personally, and actionable ideas for them to take back and implement into the organization. The extensive pre-session research you conducted into our organization prior to our meeting proved to be a great investment of your time. In addition to our conversations, you spoke with 12 members of our group on the phone, received e-mail input from more than 25 attendees, and spent five hours at our Merriam, Kansas site to learn more about the Retail Finance business. You were able to take learnings from those interactions and seamlessly weave them into your session, which made it all the more impactful.

As you know, we're big proponents of process and believers in simplification. Importantly, your session gave us numerous practical process-orientated exercises that will help us further develop our strengths to accelerate performance and deliver results for the business. Thanks to your pre-session work and your straightforward teaching approach, the presentation was tailored to our audience and business, and, as a result, the team was fully engaged for three-plus hours – no small feat.

Finally, I want to personally thank you for the help you provided after the session with respect to our forthcoming Develop U Week. Your willingness to sit down and be videotaped for an interview immediately following the session after a long day was greatly appreciated, as was your follow-through in writing a whitepaper article for use during our learning and development week. On behalf of the organization and our team, thank you again for helping make our meeting such a success."
Abbott Laboratories
"Dan Coughlin took time to understand our needs and challenges through interviews and discussion prior to the meeting, then tailored his talk on accelerating leadership to us in a very engaging manner and gave us approaches that we could readily put to use to improve our leadership skills. He received the most positive and highest remarks on our feedback survey for relevance and engagement. One attendee said, 'I have already used the information that was provided to us by the Keynote speaker to accelerate the leadership of a new issue to help us move the business forward.' Thanks again for your excellent talk at our Global Regulatory Conference."
Toyota Financial Services
"Dan, on behalf of the entire Toyota Financial Services Team, I'd like to personally thank you for your keynote presentation at this year's National Sales Conference. You left an outstanding impression on everyone you worked with at TFS. Your passion, follow-up and attention to detail are tremendous and helped to make this year's sales conference a success. In fact, in the feedback survey from the conference attendees, we received excellent remarks on your efforts. Thank you again for your personal commitment to accelerating TFS to even greater levels of success! Oh yes, driven by the enthusiasm generated from the sales conference, we had the best all-time month in sales of both finance and insurance products! It was great and you helped 'accelerate' us to get there!"
Integra Enterprises Corporation RE/MAX Ontario-Antlantic Canada, Inc.
"Dan Coughlin was a pleasure to work with and was very well prepared when he spoke to our group. Dan took the time to ask the right questions long before his speaking engagement and had several in-depth conversations within our membership educating himself on the challenges within our business. Our Broker/Owners are a tough crowd to please, but Dan connected with them immediately and most importantly held their attention and the group was deeply engaged during the entire session. Dozens of positive comments afterwards about a morning well spent. I look forward to working with Dan again in the coming years."
National Jack in the Box Franchisee Association
"Dan, on behalf of the Jack in the Box Franchisee Association and myself, we appreciate your full of energy and interactive presentation at our annual convention in Hawaii. I have seen and heard many keynote speakers, but your presentation and content were aligned with what we are facing in today's environment. We loved the fact that you actually worked in one of our Jack locations in order to prepare. You truly understood our culture and process. As a speaker, your back-to-basic and specific approaches to our daily challenges were perfect. You also shared many useful ideas on continuous improvement and reminded us all of the importance of collaborating in order to improve and sustain long-term business results. Our group walked away with a refreshed enthusiasm around how we can accelerate our impact as leaders."
BJC HealthCare
"Dan, on behalf of the entire leadership community at BJC HealthCare, I want to thank you for your inspiring keynote session. The top 300 leaders in our organization greatly benefited from your messages and actionable steps presented during your 'Lead the Way' presentation. Personally, I enjoyed the way you connected the tenants of leadership between today's leaders and historical leaders whose styles and approaches have stood the test of time. As we continue to transform our organization, these leadership lessons will help us lead the way to success. Thank you again for a wonderful session."
American Cancer Society
"Dan, I want to thank you again for your compelling presentation 'Accelerate Your Impact as a Leader' at the American Cancer Society Corporate Impact Conference. I continue to use and re-use the information and material to improve my leadership capabilities. The Conference Planning Committee, as well as my many colleagues at the session, agreed that your practical advice, along with the Leadership Action Guide, hit the mark. As leaders, one of our primary roles is to have an impact on how other people think, and you provided excellent insight and actions to help us make that happen. After the session, many participants talked about the various styles you presented, and how this will help them tremendously in the future. Your passion on this topic, the pre-work you did in getting to know the audience, and your partnering with us along the way, are only some of the reasons for your success. We definitely walked away with a new enthusiasm in our roles as leaders. Thank you."
To read many more click here to read client results and testimonials.