Thoughts on Excellence Free E-Newsletter Series
Volume 20, Issue No. 7b
December 15, 2021
By Dan Coughlin
Listen to this Article
Download file in MP3 format.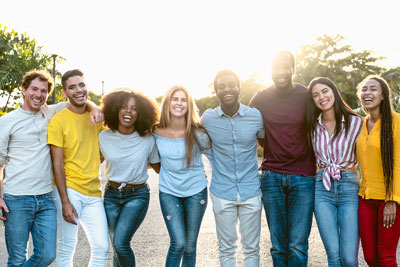 Relationships are incredibly important.
It's through relationships that we get our work done, fulfill a higher purpose, and create meaning in our lives. Relationships permeate every aspect of our existence from family life to friendships to community involvement to the work we do.
In this series of articles on interpersonal effectiveness we have touched on so many topics: respectfulness, reverence, trust, throwaway comments, and so on. Today we're going to focus on the enormous importance of having fun.
Get Serious About Having Fun
Having fun together is where people get to relax and enjoy each other's company just for the sake of enjoying being with each other. This is incredibly important.
There is always the temptation to stay constantly busy. We can be in perpetual motion in doing our work, caring for our parents, and running our kids to an infinite number of activities, and before we know it our relationships at home, with our friends, and with our co-workers has suffered tremendously.
A relationship is a connection with another person or a group of people. These connections are incredibly important. When these connections are worn down or broken, there are many, many negative ramifications.
Having fun together is the starting point to rebuilding and strengthening these connections.
Please, take out a pen and start writing down ideas on how you can have fun with the people in your home and in your neighborhood, with your friends and family, and with the people you work with.
Here is sort of a rambling list of ideas:
Play a game at home.
Go ice skating.
Go sledding.
Have a progressive dinner with friends at three different houses.
Go bowling.
Go to a concert together.
Play an on-line game together.
Play Pickleball together.
Watch a movie on your garage door and invite the whole neighborhood.
Keep working on your list and get serious about scheduling time to have fun together.
Most of life is in our relationships. Having fun together is what allows our relationships to have a foundation to build on. In order to have fun, we have to carve out time in our oftentimes overly busy lives to actually be with these people for no other reason than to enjoy being together.
---
Republishing Articles
My newsletters, Thoughts on Excellence, have been republished in approximately 40 trade magazines, on-line publications, and internal publications for businesses, universities, and not-for-profit organizations over the past 20+ years. If you would like to republish all or part of my monthly articles, please send me an e-mail at dan@thecoughlincompany.com with the name of the article you want in the subject heading. I will send you the article in a word document.