Thoughts on Excellence Free E-Newsletter Series
Volume 20, Issue No. 19b
December 15, 2022
By Dan Coughlin
Listen to this Article
Download file in MP3 format.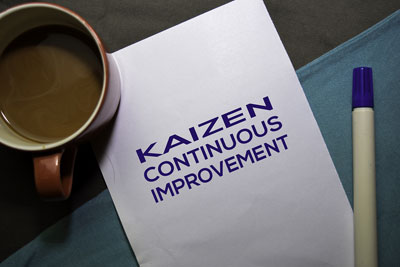 Running a business can feel like you are doing the same basic tasks over and over and over. No matter how high-tech or complex your business is at the beginning, at some point it starts to feel like you can do it almost without even thinking about what you are doing.
And this is where it may start to feel stale and boring. Many people walk away from a business after many years because it was no longer feeding their creative juices.
However, there is another approach. I think of it as The Blank Canvass Approach. As you are doing similar tasks day after day, you can pause and ask yourself, "How can we do this better? What would be better for our customers and our employees? What would make this a more enriching experience? How can this activity enhance our ability to take on even more meaningful work?"
When you intentionally focus to improve, then it's not the same task over and over. Each day, week, month, or quarter becomes a period of learning and improving.
How You Can Improve
No matter what you do in your business, there are ways to consistently get better. Here are a few thoughts on how to do that.
Scheduled Reflection, Discernment, and Discussion Time
Put on your calendar chunks of time to reflect on your business. This is not time in the shower or while you're driving. This is time where you sit or walk and focus only on your business. Don't think about a specific situation, but rather think of your business holistically. What could be done on a systemic level or a personnel level or a strategic level that would make your business better? What could be done in terms of interactions with employees that could make the experience of working for your business more rewarding and more enriching for the employees? What could be done tactically that would make things better for the customers?
Then discern, which means to sift through the ideas in order to find the golden nuggets.
Discuss these ideas with other people in your business. Talk with your customers. See what feedback you get from them.
Make some refinements, choose an idea to move forward, and go into action.
In this way you are not doing the same thing over and over. You are painting a new picture, a new iteration of your business.
Read/Listen, Learn, Tweak, and Improve
Search for ideas on how to improve your business from outside of your business. Read books and articles and listen to podcasts. Search for ideas on how organizations improve. Tweak those ideas to make them work for your organization. Try them out. And then ask yourself The Bar Raising Questions:
What was our goal and what did we actually achieve?
What did we do that worked well and why, and what did we do that did not work well and why?
What lessons did we learn or relearn?
What will we do the same and what will we do differently in the future?
Study the Masters
Make a list of organizations both inside and outside of your industry that you really admire.
Then study them closely.
Watch how their employees interact with customers.
Watch how they talk with each other.
Let the business owner know how much you admire the person's business. Ask how they consistently deliver excellence at such a high level. Sometimes people willingly share what they have done to build such an outstanding organization.
Conclusion
Successful business owners do not run the same business for 40 years.
Successful business owners constantly get better. They actively search for ideas, and they are open to new ideas when they are presented to them in the moment.
They carefully sift through these ideas and then decide on which ideas to implement.
Then they review what they've tried, and then they either stop doing the idea or improve the idea in future efforts.
---
Republishing Articles
My newsletters, Thoughts on Excellence, have been republished in approximately 40 trade magazines, on-line publications, and internal publications for businesses, universities, and not-for-profit organizations over the past 20+ years. If you would like to republish all or part of my monthly articles, please send me an e-mail at dan@thecoughlincompany.com with the name of the article you want in the subject heading. I will send you the article in a word document.