Thoughts on Excellence Free E-Newsletter Series
Volume 20, Issue No. 10a
March 1, 2022
By Dan Coughlin
Listen to this Article
Download file in MP3 format.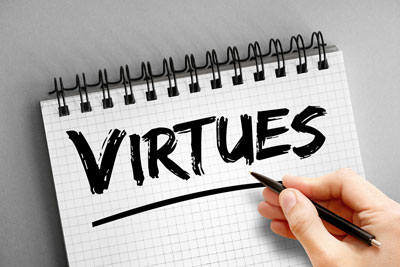 Virtues are the thoughts, words, and behaviors that you want in your life. These are for you to choose carefully. You can study what other people think are the most important virtues, but only you can decide for yourself what the most important virtues are that you want in your life.
Where selfishness lowers our self-esteem and hurts our relationships with other people, virtue strengthens our self-esteem and deepens our relationships with other people.
While sometimes people will avoid you because of your virtues and it may seem lonelier at times, there are other people who will want to develop a more meaningful relationship with you because of your virtues.
As with identifying what aspects of your selfishness you want to surrender in Step #3 in The Inner Journey Series, I encourage you to reflect, discuss, pray, discern, and decide which virtues you want to embrace.
Selecting Your Desired Virtues
There are two kinds of desired virtues, the ones you have and the ones you want to have.
If you take the time to answer these six questions, you will assemble your list of desired virtues fairly quickly.
What to Sustain
What thoughts do I have on a regular basis that I want to maintain?
What words do I say on a regular basis that I want to continue to use?
What behaviors do I regularly display that I want to keep doing?
 What to Embrace 
What thoughts do I want to have on a regular basis?
What words do I want to say on a regular basis?
What behaviors do I want to regularly display?
Please don't rush this. Take the time to really reflect, discuss, pray, discern, and decide on your answers to each of these questions. You might end up with 4-5 items on what you want to sustain from the past and 4-5 items on what you want to embrace going forward.
Here are the desired virtues I landed on for my own life:
Sustain
My commitment to my family: Barb, Sarah, and Ben. My commitment to honoring my parents.
My caring for other people and my pointing out to them the greatness I see in them.
My curiosity in learning new ideas and reading from books every day.
My contribution to the world in the form of practical ideas on how people can live the life they want to live.
Embrace
Peace of mind that comes from pure, healthy, and positive thoughts and from doing my best.
Joy that comes from a deep gratitude, and optimism that comes from a very strong belief in a really bright future.
Healthy eating, water, exercise, and stretching.
Acknowledge the good in each person, accept them as they are right now with no changes, and appreciate them.
Respond to each moment, person, and situation with patience, calmness, and kindness.
Of course, it's much, much easier to type them than to live them. Having clarity on your desired virtues helps in that you can see them every day and keep them top of mind, but it's only in living them that their enormous value comes to life.
Make the Effort to Progress on Your Inner Journey
Those 8-10 thoughts, words, and behaviors that you have identified as your desired virtues will greatly enhance your life as you consistently put them into action. When you simultaneously surrender the 3-5 selfish thoughts, words, and actions you identified in Step #3 on this journey, you will begin to live more and more the life that you want to live every day.
That is when your inner progress will really begin to accelerate toward excellence. It won't happen all at once, and there will be setbacks, but by consistently making the effort to review the virtues you want to sustain or embrace and surrender the selfishness you don't want, you can make real progress in your day-to-day living.
Book Recommendation
 Authentic Happiness by Martin Seligman, specifically Chapter 8 and 9. In those chapters Dr. Seligman outlines a wide list of virtues to consider.
---
Republishing Articles
My newsletters, Thoughts on Excellence, have been republished in approximately 40 trade magazines, on-line publications, and internal publications for businesses, universities, and not-for-profit organizations over the past 20+ years. If you would like to republish all or part of my monthly articles, please send me an e-mail at dan@thecoughlincompany.com with the name of the article you want in the subject heading. I will send you the article in a word document.