Thoughts on Excellence Free E-Newsletter Series
Volume 19, Issue No. 9b
January 15, 2021
By Dan Coughlin
Listen to this Article
Download file in MP3 format.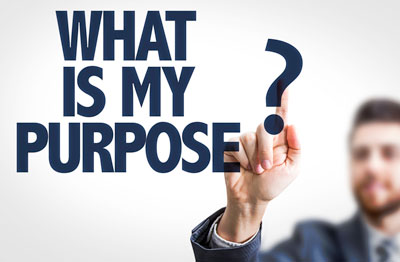 Paychecks are very important.
Paychecks help us get the essentials: food, a place to live, a car to drive, and so on. Paychecks help us to gain a sense of financial independence, which allows us to make choices. And that financial independence can grow to pay for a house, some fun vacations, our retirement, our kids' college tuitions, and care for our aging parents.
So there is no doubt that paychecks are important, very important.
However, on the road to earning paychecks there is another factor to keep in mind if you truly want to be effective. And that other factor is purpose.
Your purpose is why you do what you do for a living.
If you ignore your purpose in the pure pursuit of bigger paychecks, something very counterproductive may very well start to happen. You might look at the same paycheck as the month before and see it as much smaller. You might start to think, "Is that it? Is that all I'm getting for my efforts?" And then either the paycheck has to grow consistently and quickly larger and larger, or the disappointment you feel will quickly grow larger and larger.
And if a few decades go by without a sense of purpose in your work, then no matter how big the paycheck becomes the sense of loss and frustration and disappointment can grow exponentially larger.
What is Your Purpose?
Seriously, what is the purpose that you want to fulfill in your work?
Take your time and write down your answer thirty times on thirty different Post-it notes. Each time you write it down turn the last Post-it note over so you can't see it. Your purpose will become more refined and clearer each time you write it down. By the 30th time, I believe you will land on your purpose, which is the reason why you want to do the work that you want to do.
If you are a full-time employee in someone else's organization or in your own organization, you will work for about 80,000 hours in your lifetime, give or take a few thousand hours. (40 years of 40 hours a week for fifty weeks a year. You do the math.) In that time you will pile up a lot of paychecks. That's the tangible part.
But what about the intangible part? Are you fulfilling your purpose? At the end of a month, can you look back and say whether or not you fulfilled your purpose?
Imagine next to your paycheck you have another way of accounting for the work you did. You go back through every day of your work for the past month, and you ask yourself, "What did I do that day to fulfill my purpose?" And then add up everything you wrote down and call it your purposecheck.
A paycheck is tangible and important.
A purposecheck is intangible and even more important.
Try that for one month. And then try it for another month. And then another.
Purposechecks can fuel you to keep going even when the paycheck no longer feels sufficient.
In the end, the two ideas can merge together until you are receiving purposeful paychecks.
---
Republishing Articles
My newsletters, Thoughts on Excellence, have been republished in approximately 40 trade magazines, on-line publications, and internal publications for businesses, universities, and not-for-profit organizations over the past 20+ years. If you would like to republish all or part of my monthly articles, please send me an e-mail at dan@thecoughlincompany.com with the name of the article you want in the subject heading. I will send you the article in a word document.