Thoughts on Excellence Free E-Newsletter Series
Volume 19, Issue No. 4b
August 15, 2020
By Dan Coughlin
Listen to this Article
Download file in MP3 format.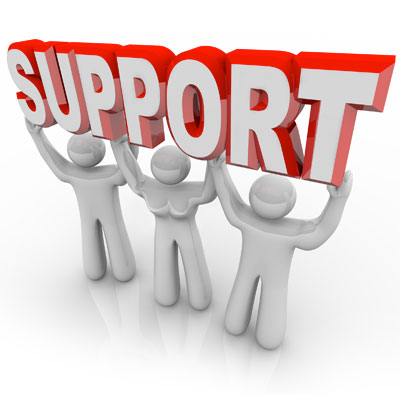 A team is a group of individuals who support one another toward fulfilling a meaningful purpose and achieving important outcomes.
In this article we're going to focus on the word support. Here are four ways a person can support a teammate in any organization.
Provide Emotional Support
Many times what a teammate needs is not a solution, but rather someone to truly listen and be emotionally supportive. A person has had a very rough day or week. Painful conflicts at home, disappointments in results at work, a health flareup, and a host of other realities can wear a person down. The person can't always turn to a spouse or family member over and over for support. Those people may be stressed out as well.
What can you do to be a supportive teammate?
Sometimes just stopping what you are doing, facing the person, and listening non-stop without inserting any advice at all can be tremendously supportive of the other person.
You don't have to feel it's necessary to comment on the person's situation or judge it or tell the person what to do. Just look the person in the eye and let the person vent. Let the person pour out his or her emotions. Be there to hear the emotions and don't walk away from the person.
Share Knowledge
If you have information that would help a teammate, offer that information. If you are not a team player, then hoard information and don't share it with other people. It's very simple.
You worked with a difficult customer on a past project, and you know this person is a quick decision-maker who wants no small talk, three options, a recommendation, and the opportunity to make the final decision. Your colleague tends to try to be friendly and relaxed with customers and warm them up by asking about their family and their vacations. Your colleague is now going to be working with this customer.
If you are a team player, you share information about this customer before your colleague walks into the first meeting. If you are only focused on yourself, then you don't take the time to share any information that might help someone working on a different project.
Offer Honest Suggestions
Teammates are not bosses of each other. It is not your role or responsibility to tell other members of your team what to do. However, you can support a teammate by offering an honest suggestion in a one-on-one conversation.
If you believe a teammate is sabotaging her success by making judgmental comments about other team members, then I encourage you to set up a time to talk with this teammate in private. When that time comes, you can say, "Susan, I'm certainly never going to tell you what you can and can't do in a meeting. However, can I offer you a suggestion?" If Susan says yes, you can say, "I don't know if you realize it, but in our group meetings you often make disparaging comments about people who are not in the room and who are working on projects for some of our other team members. I'm just letting you know this because I think it might hurt your credibility with people in the room. What do you think?"
Susan might get upset with you. She might be thankful to you. She may or may not do what you are suggesting. That's up to her. But you offered her an honest suggestion in a private conversation. You made an effort to support her. Now let it go. Don't keep harping on Susan's behavior with her. If you do, then you are not being a supportive teammate. You are becoming a person who thinks he or she is the boss of the other person. That would weaken teamwork.
Do What is Asked
Sometimes being a supportive teammate is doing what is asked of you. Don't debate it or fight it or ignore it. Just do what another teammate is asking you.
"Tom, would you be willing to call this list of 10 prospects to see if we can generate any interest in this new product launch?"
"Yes, thanks for thinking of me and asking me to do that. I will do that and let you know how it goes."
Did you notice how simple that exchange was to complete? No drama, no intense scrutinizing. Just one teammate asking another to do something, and the second teammate saying yes.
---
Republishing Articles
My newsletters, Thoughts on Excellence, have been republished in approximately 40 trade magazines, on-line publications, and internal publications for businesses, universities, and not-for-profit organizations over the past 20+ years. If you would like to republish all or part of my monthly articles, please send me an e-mail at dan@thecoughlincompany.com with the name of the article you want in the subject heading. I will send you the article in a word document.