Thoughts on Excellence Free E-Newsletter Series
Volume 18, Issue No. 10a
February 1, 2020
By Dan Coughlin
Listen to this Article
Download file in MP3 format.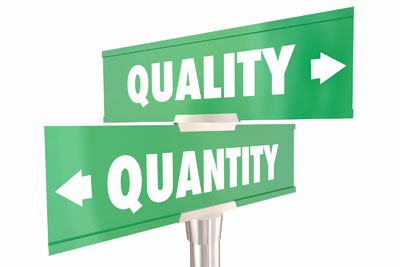 Leadership is such meaningful work. You are truly trying to influence how other people think so they make decisions to improve results in a sustainable way. In trying to be a leader you are aspiring to be on the same level with Martin Luther King, Jr., Oprah Winfrey, Mother Theresa, and Gandhi. They all worked to be leaders.
One of the great challenges of leadership is deciding what topics to emphasize, what to say, and what to do. What topics do you emphasize? What behaviors do you invest most of your time doing? Where do you place your energy?
These are very difficult questions to answer. It comes down to figuring out how to balance opposites.
Eleven Opposites to Consider Balancing
Here are eleven opposites you might have to make a decision on. How much of each do you think you should emphasize in your leadership situation?
Originality vs Sustainability
How much time do you put into doing something different than anyone else has done, and how much time do you put into doing a common task over and over for the long term?
Operations vs Innovation
Do you emphasize getting the work done or coming up with new ways to add value to other people?
Strategy vs Execution
Do you focus on deciding what the organization needs to do to achieve its desired outcomes, or do you focus on doing the planned actions as well as you can do them?
Laser-like Focus vs Broad Interests
Is it more effective for you to concentrate solely on the value you want your organization to be known for delivering, or is better to travel widely, read broadly, and talk with people from all walks of life?
Asking Questions vs Telling Stories
Do you think you are more effective as a leader in listening to a person's ideas, or in telling stories to large audiences?
Raising the Level of Performance Across the Organization vs Meeting with an Individual
Is it better for you to sit in your office and focus on developing a company-wide professional development program or to invest those two hours in meeting with one individual to better understand the person's purpose, values, passions, and talents, and help guide the person to a role where he or she can be more effective?
Public Speaking vs Private Conversations
Is it a more effective use of your time to go around your organization giving public speeches at Town Hall Meetings, or to meet with individuals over a cup of coffee?
Vision vs Details
Do you think you should keep talking about your organization's vision or about the details of an upcoming meeting?
Growth vs Excellence
Is it better to always focus on growing revenue and adding sales people and adding new customers, or is it better to focus on improving day-to-day performance in every part of your organization?
Time at Work vs Time with Your Family vs Time by Yourself
Is it a better use of your time to work 70 hours a week, to sign up to coach four youth basketball teams, or to train for a marathon?
Exercise vs Relaxation
Is it healthier for you to get up at 5 AM and put in five miles on the treadmill every morning, or is healthier to curl up with a good book and then take a nap?
Conclusion
I don't think the answer to any of those questions lies in choosing one or the other of the opposites, but rather in consciously deciding how much of each of them you want to emphasize or invest yourself in at a particular time. It's like a painter going around the palette and deciding how much of each color to use in the painting at different places.
Never said leadership was going to be easy, but it can be incredibly meaningful as you make these choices and move them into action.
---
Republishing Articles
My newsletters, Thoughts on Excellence, have been republished in approximately 40 trade magazines, on-line publications, and internal publications for businesses, universities, and not-for-profit organizations over the past 20+ years. If you would like to republish all or part of my monthly articles, please send me an e-mail at dan@thecoughlincompany.com with the name of the article you want in the subject heading. I will send you the article in a word document.