Thoughts on Excellence Free E-Newsletter Series
Volume 17, Issue No. 3b
July 15, 2018
By Dan Coughlin
Listen to this Article
Download file in MP3 format.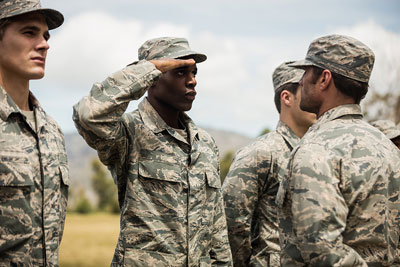 Recently I had breakfast with a friend of mine named Dave Rogers.
Dave just returned from Afghanistan, serving with the United Sates Air Force Reserve. He shared with me how he enjoyed the experience serving in the war zone. "It was extremely challenging," Dave shared, "but I was thrilled to put all of my training into practice and to dedicate intense effort towards our mission."
For Dave, and more than a million others in the United States Military Reserve and the National Guard, they will do their job just one weekend per month, two weeks per year, and every few years they will deploy for several months at a time.
What's remarkable is that these service members have just a few days a year to learn their job and to stay proficient in their job before deploying to war. There, they're expected to be just as proficient at their job as someone who does the role on a full-time basis.
Dave understands how strange that may sound from the outside, for someone to excel in their job while only performing their job for a relatively short amount of time. However, Dave insists, "The model works very well." The key, he explained, is the in-depth focus on training for those few days. Then, when serving overseas, all of that training is put into practice.
The results, Dave says, are astounding, with a part-time workforce able to maintain proficiency at their job in just a fraction of the time.
Applying this Approach to Our Work
All of us are busy in our work. We move from one thing to another and weeks, months, and years slide by. Are we better at what we're doing today than we were five years ago? What is causing us to get better?
As I listened to Dave it struck me that the Air Force Reserve approach is a magnificent way to keep raising the performance bar. Two days a month and two weeks a year of intense learning can greatly improve anyone's performance level in almost anything.
Imagine you want to be a better leader in your organization. Or a better collaborator, or a better guide, or a better manager, or a …
Every thirty days set aside two solid days to improve your knowledge and capability to deliver better value in that given area. Don't do any of your normal day-to-day work. Just dedicate yourself to learning and improving in that area. Then the next month do the same thing. And the month after that and the month after that. And then for two solid weeks a year completely immerse yourself in that given topic both in terms of learning and in terms of doing.
The more I thought about what Dave was teaching me, the more excited I became. Imagine if you used this approach to become a better leader year after year for four years. And then on the fourth year you stepped into an incredibly meaningful situation for 100 days where you could apply everything you learned in those two-day and two-week learning segments on leadership.
The Value of Consistent, Focused, and Intense Learning
I think this is a great model for learning and improving performance in a significant way.
We're all busy, too busy to focus every day on intense learning on a given topic. But we could carve out one weekend a month to really improve at something. And then we could dedicate ourselves for two weeks a year to really learning about that topic and improving our performance in that area. And then we could supplement our learning with reading and applying what we've learned in small situations during the rest of the year. And then we can work toward a really important 100-day project every four years. By doing so we can prepare ourselves to be able to work effectively with people who work on that topic every day on a full-time basis.
Conclusion
What topic do you want to commit yourself to improving at this year?
What will you do during your two days a month and two weeks a year to really improve in that area?
What will you do every four years to really apply what you've learned?
---
Republishing Articles
My newsletters, Thoughts on Excellence, have been republished in approximately 40 trade magazines, on-line publications, and internal publications for businesses, universities, and not-for-profit organizations over the past 20+ years. If you would like to republish all or part of my monthly articles, please send me an e-mail at dan@thecoughlincompany.com with the name of the article you want in the subject heading. I will send you the article in a word document.