It's Your Biz: The Complete Guide to Becoming Your Own Boss
(AMACOM 2012, 239 pages) by Susan Wilson Solovic with Ellen R. Kadin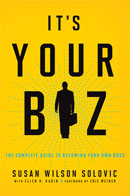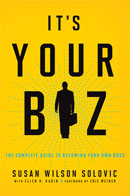 Value for the reader:
This is a remarkably practical, straightforward, and honest book about what it takes to start and run your own business. Each idea is presented in a clear and concise fashion. The book shifts gears from one idea to another with a natural and quick fluidity. You can read it in a few hours and come back to it for a few decades to find the one insight you need at that moment.
It could have been called, Seriously, It's Your Biz or It's Your Biz, Now Deal with It because those titles would have captured the no-nonsense approach the authors take to telling the reader how to tackle many of the common situations business owners face.
Strengths of the Book:
The greatest strength of this book is the practical usefulness of the ideas that Susan shares for small-business owners. I've run my own business for fourteen years, and Susan's insights are extremely relevant and insightful for me even though I'm not just starting up. She has owned a variety of businesses and has worked directly and indirectly with tens of thousands of small business owners. She covers all of the key elements of running your own business and provides stories from her past and stories from other small-business owners.
Susan could have bragged about her success as a business owner ad nauseam, but instead she shares her struggles as well as her triumphs, her mistakes as well as her wise decisions. She often uses her past experiences as examples of what not to do. Her advice is drawn from decades of running her own businesses. This is really a book that could serve as an effective and comprehensive reference guide for business owners at any stage in the life of their business.
Dan's Dozen Favorite Attributes of It's Your Biz
Here are a dozen aspects of this book that I really found to be valuable:
Realistic with the Gloss Removed.

On page 40 Susan wrote, "Passion is not the singular key to business success!" Then she repeated that statement several more times. She pounds away on that theme over and over. She makes it extremely clear to the reader that no one should start a business and expect anything to be easy. I love that about this book. This is not a feel-good, go out there and change the world pep talk. Susan makes it abundantly clear that owning your own business is real work and really hard work. After reading it, many people may decide they don't want to start their own business, and that's good. If a person can be talked out of running his or her own business, then the person probably shouldn't do it in the first place.

Comprehensiveness of Scope, Depth of Detail

What topics are important to small-business owners? Let's see there would be business planning, marketing, pricing, profit-making, legal issues, hiring the right people, and, oh yeah, having a personal life as well. All of these topics are covered in detail plus several more. Here's one example of the depth of detail. On page 97, Susan explains how to multiply one message on multiple social media platforms. I had never even heard of such an idea, but she provides three different websites that the reader can visit to learn how to push one button and get your idea out to your friends and followers in several places at once.

The Importance of a Purpose

I particularly liked Chapter 5 called "Purpose, Promise, and Principles" because it highlights the importance of having a purpose beyond just making money if you want to be a successful, long-term business owner. Just buying a business to say you own a business is a very bad idea, and Susan explains why in a number of different ways. She also helps the reader to see the connection between making a promise to a customer and building a strong brand. Regardless of the size of the business, the customer has to know what promise your company is going to keep. That is what you will build your business on.

Marketing Advice that Can Save a Bunch

Chapter 6 has by my count 14 different ideas on how to effectively market your business ranging from the tactical (coupons and loyalty programs) to the strategic (be concise and consistent). None of these ideas are very costly and in combination they can be very powerful. Marketing is really a crucial element for small business owners. It has to happen all the time because you don't have an established brand that you are working under, unless you buy a franchise of a well-known brand. Susan encourages the reader over and over again to avoid wasting large sums of money (and she even includes the stories of a few people who fell into that trap) on marketing, and instead to very carefully deploy a variety of low-cost approaches to the marketplace.

A Strategic Walk-Through

In Chapter 4 Susan begins by touting the value of a business plan and then walks through the actual steps that make up an effective business plan for a small business. I really like her point that the main value of a business plan is for the business owner. The business plan keeps the vision out in front of every tactical decision. It helps the business owner see the path necessary to generate successful growth as opposed to short-term growth that fizzles out quickly. She also provides additional resources and recommended websites that can help you develop your business plan. Here's one quote on page 67 I really like, "You need confidence in the viability of your business before you open the doors." That's what a good business plan will help you do.

Finding the Right Mix of Talent

In Chapter 7 Susan lays out her advice regarding people involved in a small business, and she does it with a high degree of honesty and pragmatism. She talks about the role of people ranging from business partners to employees to strategic alliances to coaches and mentors and board members. The thing I liked about it was she explained the importance of each of these roles, but even more so the importance of having the right kind of person in each role. That doesn't mean everyone is alike. It means the person for that role has to be the right person. She also provides a host of examples of where she made a mistake in hiring someone and how she handled those situations.

Legal Matters Really Matter

Legal matters usually get a quick, superficial mention in books like this while the author focuses on the sexiness of running your own business. Susan, who once ran her own law firm, dives into the detail and the importance of having good legal representation and advice on a myriad of critically important issues. This chapter, which is Chapter 8, alone sets this book apart from the motivational type books that entrepreneurs oftentimes read.

The Harsh Reality of Cash

Speaking of cold reality, Chapter 10 does a great job of emphasizing the importance of maintaining a strong financial position both at the beginning of a new business and as the years roll by. She stays away from the nonsensical advice of spending money on fancy clothes and cars to build an image of success. Instead she talks about the wisdom of investing in no-frills offices and keeping the overhead as low as possible. Wasting money in good times is one of the big reasons companies collapse in bad times. Read this chapter twice.

One really interesting story in this chapter was Susan's story about going to a boot camp to learn how to pitch her business concept to venture capitalists. It really emphasizes the importance of having a clear understanding of your business. Even if you are not looking for partners, this idea can help you in moving your business forward. Clarity is critical.

Start Small, Dream Big, Keep Moving

This was another important point in Chapter 10. Once you begin your business, keep doing the things that will move the business forward. Little things compound over time so the key is to keep making progress every day. Her story about itsyourbiz.com is a good example of how to steadily build a business over an extended period of time.

Charge Appropriately

Chapter 11 tackles an important question for every entrepreneur: What should I charge for my products and services? Susan provides a variety of suggestions on how to consider your prices.

Location, Location, Location (But Not What You Think)

While most books talk about the importance of having the ideal location, Susan makes it clear that the right location for your small business might be your home or a nondescript warehouse or a commercial office. It all depends on your situation. Read Chapter 9 before you invest in a long-term, ultra-expensive office space.

Take Your Work Seriously, But Not Yourself

One theme that emerged consistently throughout the book was that Susan enjoys her life as an entrepreneur. This comes across partly in what she says, but even more so in the way she says it. She's comfortable in her entrepreneurial skin. She doesn't talk about driving the most expensive cars or living in the biggest house. She talks about her dogs and her trips with husband and getting lost by following her GPS. She's a regular person who happens to own a successful business. She has not lost her identity as a person because she has a business.

There is one ultra-sad story in the book of a woman who committed suicide because her business was in significant financial straits. To me, this story highlighted the importance that a business owner can never see himself or herself as the business. Being a business owner is a remarkable journey of learning and applying, but it can never be a person's sole reason for living.
What would have made this book better?
These are minor points, but here are two things that I think would have helped this book:
Graphic Visuals

There are so many good ideas in each chapter that I think a graphic visual that pulls them all together for each chapter would be helpful. For example, in Chapter Six there are a lot of great ideas on marketing. I think a visual of an artist's palette with each of the ideas in the spaces where the colors would be would give the reader a powerfully visual way to see that they can apply the marketing ideas in the same way that an artist paints on a blank canvass.

OPS (Other People's Stories)

I think it would have been neat at the end of each chapter to have a small-business owner tell a story about running his or her business. Businesses are really a collection of stories, and I think these stories could have helped the reader understand even more so how challenging it is to own a business.