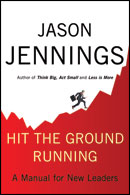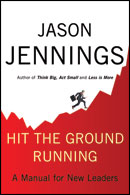 Hit the Ground Running: A Manual for New Leaders
(Portfolio 2009) by Jason Jenning
Value for the reader:
Jason Jennings has a rare gift. He has the energy to climb the massive mountain of research necessary to really understand a big issue and the patience to come down from the peak and explain what he has learned in practical ways that readers can use immediately.
Hit the Ground Running is a perfect example of this gift. He wanted to find out what really, really successful 21st Century business leaders do in their first year on the job that makes for sustainable and profitable success. He and his research team took the largest thousand publicly traded companies in the United States, examined the performance of those companies from 2001 through 2007, and narrowed the list to nine companies through a series of extremely stringent filters. He then interviewed extensively the CEOs of those nine companies.
And why is all of this work of value to the reader? Jennings captures a host of practical insights from each of the CEOs and presents them in a usable form that leaders can use at any time in their career. It's like having a massive toolbox with the very best proven management tools available inside it. Readers can open up the toolbox, pull the tools out, and then decide which tool is most appropriate for a given situation.
Here are some examples that I loved:
Tim and Richard Smucker, CEOs of The J.M. Smucker Company, talking about the importance of publicizing their organization's strategy. Rather than keeping their corporate strategy a secret they want as many people as possible to know the strategy. That way everyone in the company knows the strategy, and, just as importantly, everyone knows that everyone else knows the strategy. That's how a strategy effectively guides long-term decision-making in a consistent manner across the board. If you have a secret strategy, then managers can claim ignorance when they make a decision that doesn't support the organization's strategy at all. Develop a clear strategy, make it known to everyone inside and outside the company, and then follow that strategy. That's good advice.
Fred Eppinger, CEO of The Hanover Group, which is a property and casualty insurance company, getting his company real and keeping it real. He took all of the fancy furniture out of his office on day one and replaced it with a whiteboard and a conference table. He wanted to make it clear that his space was about collaborating and working. He went and talked with people throughout the company and at all levels. He met with all three thousand employees in group sizes of fifty or fewer. He wanted to know the real story. He divested the company of a wide range of businesses and got everyone focused on building a world-class property and casualty insurance company. Ron Sargent, CEO of Staples, Inc., demonstrated this same maniacal focus on getting his massive company to focus on the core business when he eliminated eight hundred items in his stores. He wanted to go from having a lot of items to having the right items in each store.
Howard Lance, CEO of Harris Corporation, along with Mike McCallister, CEO of Humana, Inc., Patrick Hassey, CEO of Allegheny Technologies, and Marshall Larsen, CEO of Goodrich, Inc., demonstrating the importance of asking for help. They all openly admitted that they weren't shy about saying they didn't have all the answers and oftentimes asked former CEOs at their companies, board members, other officers, and employees for advice on what to do. Rather than pretending they were perfect, they hit the ground running by asking a lot of questions and listening to a lot of opinions.
Patrick Hassey explaining that commodities are only commodities if they are exactly like what the competition offers. He makes a great point, which is really supported by all of the other CEOs, when he talks about the key to success for an organization is to find out what it can do incredibly well. For Hassey at Allegheny Technologies it was "offering a steady stream of alloys and products needed by our customers, stellar service, geopolitical stability, and the best engineering in the business." At Staples it was having the right stock at the right time for the right customers serviced by the right people. Great leaders find ways to differentiate their organizations by strategically combining strengths to create uniquely great value for their customers.
Jeff Lorberbaum, CEO of Mohawk Industries, talking about his company's relentless focus on simplicity, speed, and efficiency. Actually, these three words describe the behaviors of the CEOs highlighted in this book. Each of them clarified exactly what to do in the first ninety days and then moved with speed and efficiency. There are no examples of complicated, convoluted strategizing sessions that went on and on for months and months. Instead each person identified what could be done to make a real difference and then went and did it.
Strengths of the book:
Three words: research, stories, and pragmatism.
At the end of the book you will read the incredible process that Jennings and his research team used to narrow their list to nine companies. The interviews in this book were not randomly selected or chosen based on which CEOs signed up first. Instead these CEOs were very, very carefully selected. That makes their stories so much more valuable for the reader.
Even though this is a practical management book, it reads with the speed of a series of short mystery novels. I became immediately enthralled with the characters in each story and the ways in which they used their first three months, six months, and year to accelerate their organization's performance levels. I found myself asking, "What's next, what's next?" the same way I do when I read a book by James Patterson or Sidney Sheldon.
However, these weren't fictional stories. They actually happened. This isn't a theoretical management book. It is absolutely rooted in real stories with real practical advice that can be applied immediately. I absolutely loved the pragmatic nature of this book. I was also really taken by the types of people described in these stories. These super-successful CEOs are down-to-earth, humble, caring, and genuine folks who want to see other people succeed. These real-life stories make it clear that any leader can be successful if he or she is willing to step up and do the essentials necessary to guide the organization to significant and sustainable results.
What would have made this book better?
I think the subtitle is a little misleading. Rather than being "A Manual for New Leaders" I think it should be "A Manual for Leaders Who Aspire for Greatness." I have a hard time thinking of any executive or manager regardless of their tenure with a group in any size organization whether it's for-profit or not-for-profit who would not benefit tremendously from reading this book. It is that powerful.
The insights, quotes, and proven behaviors are incredibly valuable. One thing that might have made the book better is if Jennings had recommended specific tools for a leader to use in his or her first forty-five days, the next forty-five days, and so on throughout the course of the first year in a new position. The reader obviously would not have to follow the recommendations in a literal sense, but it may have been a way to help the reader organize the wide array of tips and tools in this book.
More information about the book:
If you would like to learn more about this book, I encourage you to visit this website: www.jason-jennings.com. You will find a video from Jason Jennings about the book and further explanation on the research that went into the findings from this extraordinary group of CEOs.