Golden Opportunity: remarkable careers that began at McDonald's
(Cidermill Press 2012, 219 pages) by Cody Teets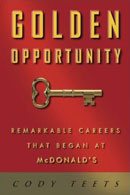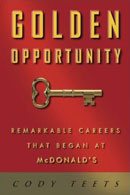 With her book, Golden Opportunity, Cody Teets set out to make a point. She wanted to make a case that working at McDonald's is not a dead-end job where you spend your life flipping burgers. She wanted to show that working at McDonald's is a place where you learn valuable insights on how to be a success in many different careers both inside and outside of McDonald's.
Teets made her point extremely well.
I believe that reading autobiographies can be an extremely powerful way to learn practical ideas on how to be an effective business leader. I'm not nearly as interested in what people's lives are like when they are at the top of the business mountain. I'm much more interested in knowing how they were able to move up the mountain. This book provides more than forty autobiographical stories of what it was like working at McDonald's from the 1950s to the 21st century. Each of these authors tell detailed stories of working at McDonald's, what they learned and how they learned it, and how they used those insights to build extraordinary careers in multiple fields. Some of these authors are famous (Jay Leno, Jeff Bezos, and Andie MacDowell) and some are not so famous, but they have all experienced tremendous success and have made the connection between their early working days at McDonald's and their later achievements.
In the end, it became very clear that even one summer working at McDonald's can play a significant role in helping a person to achieve a tremendous career. The idea that a McJob is a dead-end job is completely blown up. Instead these stories make it clear that a McJob is an extraordinarily valuable learning experience that can enhance anyone's career in any field.
However, the book does something much bigger and broader than just making the case for the value of working at McDonald's. By getting people to share their stories about working at McDonald's, Teets has created an incredibly useful book on business leadership. It is practical and the insights are based on real-life experiences and results. Underneath so many of the insights was a rekindling of the entrepreneurial spirit and the American Dream that hard work can still pay off in very big ways.
Here are ten ideas from the book that stood out for me:
Great leaders know they are in the spotlight all the time and act as role models (Page 7). This was the early advice that Ray Kroc gave to Lester Stein at the first McDonald's restaurant in 1955. As a business leader, know that people are watching you all of the time. Your words are important, but so is your body language when you're not talking.
Lend a hand to a teammate when he or she gets stuck on the job (Page 15). Companies fail when people say, "That wasn't part of my job." They forgot the job is to create value for customers, even it means doing more than what is in your job description.
You have to balance your work life and your personal life (Page 25). Burnout is a real issue and we have to proactively avoid it.
Focus on key players (Page 25). Who are the key individuals in your organization that much of the future success depends on? Be sure to build strong relationships with them.
Learn every facet of the business and build from within (Page28). Over and over this book talks about the importance of details. Think about and focus on the details in your business every day. Don't lose sight of the importance of details as you broaden your vision.
Create real opportunities for a very diverse group of people (Page 30). Throughout the book there are examples of people from minority groups who learned valuable lessons at McDonald's and went on to achieve major business successes. What they needed were real opportunities to learn and to prove themselves. Are you making the concept of diversity a reality in your organization, or do you just give it lip service?
Develop strong principles and values and apply them in good times and in bad times (Page 42). The whole McDonald's story seems like it happened in the blink of an eye, but that just isn't true. It took many years of concentrated effort to get the business to spread throughout the United States. However, many of the same ideas that Ray Kroc taught in his early training manuals were also used during periods of massive growth.
Develop an old-fashioned family attitude throughout your organization (Page 46). The value-added network that exists between the McDonald's franchisees, suppliers, and employees is truly phenomenal. How can you increase the sense of belonging to something valuable for everyone involved in and with your organization?
Make the systems simple (Page 56). Over and over, the writers talked about how impressed they were with the organization of every task within McDonald's. This is the power of simplicity at work. People are capable of great complexity and because they are they tend to want to make things complicated. The effective business leader works to reduce complexity and increase simplicity.
Deliver mundane excellence (Page 69) and develop performance currency (Page 100). These really are the two key concepts throughout the book. What makes the McDonald's brand so powerful and what helps individuals with McDonald's experience go on to achieve great success is that they deliver mundane excellence in every detail over and over again, and in doing so they develop a performance currency which allows them to gain bigger and bigger opportunities throughout their career.
There are literally dozens of other practical insights on business leadership in this book. I highly encourage you to read it, and then read it again. Every story provides a valuable insight that you can consider using in your organization.
A Conversation with Cody Teets
Coughlin:
Cody, as I read your book a number of themes popped out at me. I'm going to share those themes with you, and then ask you some questions.
Even though you're talking about a job at McDonald's, or a McJob, what stands out for me is that this was more than just a job for all of the people who wrote their stories for the book. I'm calling it The McDonald's Experience. Whether a person worked for one summer or forty years at McDonald's, they all seemed to have come away from The McDonald's Experience the same way people come away from other extraordinary learning experiences.
If any person were to live through The McDonald's Experience for even one year, what do you think they would walk away with in terms of lessons learned?
Teets:
They would learn a great deal, even if it was only for a year. The Key lessons learned and principles they would walk away with include:
Teamwork – success in the restaurant depends on everyone doing their part. In order to do this, everyone must be accountable, punctual and work together to fulfill their job responsibilities.
Customer Service – we have no idea what our customers were doing before they came to our restaurants. The goal is to make their day better than it was before they arrived by delivering an experience that exceeds their expectations.
Pride in Accomplishment – there is no greater reward and nothing more satisfying than a job well done.
Leadership – means developing and demonstrating to your people that you are first of all entirely sincere, and that you are honest and that you are willing to subject yourself to anything that you ask them to do, or you have already proven yourself.
Math – In today's world of technology, this is a skill that is often taken for granted. When someone counts money, or is doing inventory, they become sharper at addition, subtraction, division and multiplication.
Coughlin:
A related theme was The McFamily that several of the contributors wrote about. This McFamily includes franchisees and their employees, the McDonald's corporate employees, and the suppliers. The connections and networking seem limitless. How important are these relationships to the overall value of working within the McFamily? What advice do you have for other organizations to build a family atmosphere throughout their entire network?
Teets:
It is really a culture. Every company has one. It started with Ray Kroc when he said, "none of us is as good as all of us". In McDonald's we realize that the joint success of the business can only be accomplished when everyone within the system is successful. This includes our staff, our franchisees and our suppliers which is what makes up our three legged stool. The system cannot sustain if one leg succeeds at the expense of another. Over the years this sense of partnership has developed into a culture of collaboration and cooperation.
Coughlin:
Another theme that stood out for me is that great opportunities are often disguised or seem insignificant at first sight. That point was made over and over again in the book. I think its relevance is bigger than just McDonald's. I think we all need to be open to the possibilities in every situation. We never know who might open a door for us or how big the room might be. What advice do you have for people in terms of being open to unseen possibilities throughout their lifetimes?
Teets:
Change and personal growth can be scary. On the other hand if you are willing to be teachable, in McDonald's we have a support system filled with mentors who have been successful before you and believe it's their duty to help others succeed. It may require venturing into a new role, speaking in public, or relocating to another part of the country. If you are willing to share your dreams, others are available to help you achieve them. A supportive spouse and family is always a benefit as well.
Coughlin:
I felt like this book could have been called "The American Dream is Alive and Well". Many of the stories were about people who achieved great success by working hard and always striving to get better. What are your thoughts about The American Dream for people inside and outside of McDonald's?
Teets:
I believe the American Dream is alive and well. The challenge is that often times folks believe certain jobs are beneath them. In reality, we all start somewhere and in most cases it is in an "entry level" position. Whatever that position, always put forth your best effort – volunteer to learn more, help others be successful, and take pride in your work. If you decide to enjoy your work, you make your job enjoyable. This attitude attracts others that will help you find the path for growth and opportunity. This is not only applicable to youth. If you are starting over in a new field and it's an industry you are passionate about, don't be afraid to start at the bottom to work your way up.
Coughlin:
Even though a lot of people make fun of working at McDonald's, in the end I felt that people who haven't worked at McDonald's have missed out on a great learning experience. It's almost as though these people were dunked in a master class on business leadership.
Teets:
Many people do not realize the sophistication of our training processes and procedures. Hamburger University in Oak Brook, IL now offers more than fifty college credits for the Restaurant Manager and mid-management curriculum – that's almost a year and a half of college credits. McDonald's is one of twelve corporate training institutions among the Fortune 100 that has had its courses accredited by the American Council on Education.
Coughlin:
The final theme of your book that popped out at me was Practical Lessons on Business Leadership. Page after page was filled with down-to-earth, practical advice on how to be an effective business leader. I almost felt that McDonald's main job was developing business leaders, and its secondary job was selling hamburgers. What do you think McDonald's has to teach organizations whether they are large or small, for-profit or not-for-profit, all over the world that could really help them to achieve and sustain success over the long term?
Teets:
One of my favorite McDonald's values is;"We're a people business that just happens to sell Hamburgers". The key is we do spend a great deal of time focusing on the development of our current leaders as well as identifying and developing future leaders. We believe our people are our most important asset. Other restaurants can copy our food. They can copy our building and operating system, but they cannot copy our passion and support for the people we have associated with the organization. This includes our company staff, our franchisees and our vendors. We stress the importance of "developing a successor". We believe that achievement must be made against the possibility of failure, against the risk of defeat. When there is no risk, there is no achievement and where there is no achievement, there is no real happiness. I know I would not be where I am today if someone had not taken a risk and given me a chance. Our success was built on our commitment to investing in our people.