How to Hire A-Players: Finding the Top People for Your Team- Even If You Don't Have a Recruiting Department
(John Wiley & Sons, 2010, 199 pages) by Eric Herrenkohl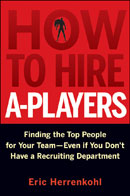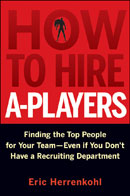 Value for the reader:
If the reader is responsible for the results of any group effort, he or she will walk away with very practical advice on how to locate the type of top performers needed to move the organization's results to a higher and more sustainable level.
Eric Herrenkohl invests all of his efforts in this book on the singular idea of locating and recruiting the very best performers for any role inside an organization. This is a very practical approach.
Strengths of the Book:
The greatest strength of this book is the practical usefulness of the ideas that Eric shares.
He could have gone on a wild ride of bragging about the companies he's worked with and the A-Players he's met over the years. Instead he stayed focused on laying out one idea at a time for the reader to consider. This is really a book that could serve as a training tool in an organization. I can visualize a group of managers reading this book and then exchanging ideas with each other on how to pursue A-Players and successfully bring them within their organization.
Dan's Dozen Favorite Ideas in How to Hire A-Players
To me, the value of a non-fiction business book is in the quality of the ideas that the reader can use right away. No matter how exciting the stories are or how impressive the research that has been done, the things I am looking for are ideas that can be used to improve performance and results.
Here are my 12 favorite ideas from How to Hire A-Players:
(Page xxi) Eric defines an A-Player as "An employee who creates superior results compared to the vast majority of other people who hold the same position in your industry." I really like that definition because it has universal application and it is broad enough that you can decide for yourself if you're watching an A-Player in action or not.
(Page 3). Eric wrote, "Nothing has a bigger impact on the results of your business and the quality of your life than hiring — and keeping — A-players."Obviously that's a very big statement, but there is a lot of truth in it. The biggest headaches I've ever seen executives and managers endure revolve around hiring a problem employee. People can deal with incredible changes and catastrophic events, but a rude, lazy, and arrogant employee is almost unbearable. Until the day the person is fired, the problems get worse and worse. An A-player makes life so much easier.
(Page 11) Eric wrote, "talent begets talent. Merely hiring one A-player begins to create an environment where other A-players want to work. Conversely, if you don't devote time and energy to hiring more A-players, the ones you already have may leave."From first grade on people want to be around successful people. An A-player is not only the best player on the team, but also has the attitude that he or she wants to share and learn with others. A-players are not arrogant people who operate in silos.
(Page 14) Eric talks about "talent choke points." It's an interesting analogy. His point is that there are crucial roles in every organization that dramatically affect the success or failure of the business and they each need an A-player in it for the company to succeed over the long term.
(Page 22) Eric uses the analogy of a value investor when it comes to looking for talented employees. He explains that sometimes the key is to find a great talent before he or she is being paid top dollar somewhere else.
(Page 23) Here's one of my favorite quotes from Eric, "Find a large pool of people who have the basic skills you are looking for, interview a lot of them, and hire the best. That is a simple formula for consistently hiring A-players."That's a good example of the type of common sense advice that Eric shares throughout this book. It is not theoretical or complicated. By and large, it is a book filled with useful reminders and value-added suggestions that anyone can apply.
(Page 29) This is a particularly useful page. Eric provides a 10-step process for defining an A-player Profile. It emphasizes that every role has a different definition of what an A-Player would be like. I really like that it values searching for certain characteristics for each role as opposed to labels such as "the right school" or "the right current employer" or a "certain look."
(Page 44) Eric, an admitted St. Louis Cardinals fan, uses the analogy of building a farm team. In other words, even if you can't hire a certain individual right away, you make a connection with the individual and let him or her know that when an opportunity opens up that you will contact the person right away. In the meantime you will stay in touch with that person.
(Page 61) Herrenkohl gives very practical suggestions on how to leverage the people you already know to find A-players for your organization. This is a good example of making all of the social media tools useful in finding the right people for your group.
(Page 81). On this page Eric begins a very detailed discussion on where to go looking for A-players including attending conferences, serving as an adjunct professor, and cultivating referral sources.
(Page 100) On this page Herrenkohl expands his ideas on finding talent by suggesting non-traditional talent pools such as women reentering the work force, spouses of relocated executives, and big-firm lawyers who don't want big-firm hours.
(Page 156) Beginning here, Eric does a really good job of breaking down the components of a successful interview process. By using an interview scorecard, multiple interviewers, and interview teams, he provides practical suggestions for narrowing the candidate pool to the very best talent available.
There are several more ideas that are just as powerful as these dozen, but at least you get the idea that you are going to walk away with practical value after reading this book.
What would have made this book better?
One thought that came to my mind as I read this book is that it would have benefitted from some interviews with people who have actually looked for A-player talent. Perhaps each chapter could have ended with input from executives who have searched for A-players and what they found that worked and didn't work for them. Finding A-player talent is like an art. There are no silver bullets, but having a dialogue between Eric and these executives made have shed some light on the challenges of recruiting and the techniques that have worked in different situations. Eric does provide some very useful follow-up tools for his book at www.howtohireaplayers.com.