Golden Opportunity: remarkable careers that began at McDonald's
(Cidermill Press 2012, 219 pages) by Cody Teets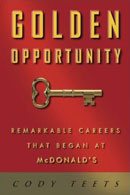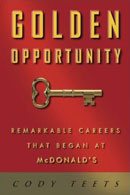 What do 20 million Americans have in common with Tonight Show host Jay Leno, Amazon.com founder Jeff Bezos, actress Andie MacDowell, and former White House chief of staff Andrew Card?
They all started their working careers at a McDonald's restaurant, learning some of the most important lessons of their lives. Golden Opportunity is a myth-busting collection of 44 profiles of people who went from flipping burgers to building remarkable careers in business, the arts, politics, science, the military, and sports.
Over the past six decades, millions of teens have earned their first paychecks under the Golden Arches. Whether they stayed for a year or a career, they learned work habits, basic skills, and the business principles that have made McDonald's one of the best-run companies in the world.
Their journeys remind us that at the beginning of every success story there is the first paycheck from the first "real" job. That first job is not a dead end, it is a young person's rite of passage into adult responsibility. The author's compelling personal story—growing up in modest circumstances with a strong work ethic—gives a unique voice to the experiences of leading entrepreneurs, entertainment figures, and others who represent a cross section of American enterprise. They recall what they learned in their first jobs at McDonald's and how those lessons helped them build their remarkable careers.
Including a foreword by Willard Scott—the original Ronald McDonald—and the 10 Golden Opportunity Keys to Success, this collection of stories will leave you wondering what today's burger flippers will achieve tomorrow.
Visit GoldenOpportunityBook.com to learn more and share your own story.
The Reinventors: how extraordinary companies pursue radical continuous change
Jason Jennings highly anticipated new book, The Reinventors – How Extraordinary Companies Pursue Radical Continuous Change will be released on May 12, 2012.
The Reinventors reveals the secrets used by great companies like Starbucks, Arrow Electronics, Apple, Pella Windows, SAS, Capital One, DOT Foods, Humana, Nucor Steel, Multi-Chem, Koch Industries, Smithfield Foods, Southwest Airlines and RCI to remain relevant, grow continuously and always stay one step ahead of the competition.
First, Jennings and his researchers gathered and studied the 22,000 newspaper, magazine and blog articles that have been written over the past decade that identified companies that have reinvented themselves. Following months of research and study they selected the 100 best examples, gained access to and interviewed the people who'd made the reinventions happen. Generating tens of thousands of pages of transcripts they then began to search for shared traits and lessons learned from the best serial reinventors.
Eventually they identified the ten rules for reinvention. Each reinvention rule is featured in its own chapter and vividly illustrated with specific examples and the stories of the people who made it happen.
If you're committed to growth and agree that constant change is required in order to achieve it The Reinventors will be one of the most important books you'll read.
It's Your Biz: The Complete Guide to Becoming Your Own Boss
(AMACOM 2012, 239 pages) by Susan Wilson Solovic with Ellen R. Kadin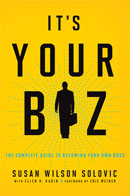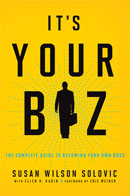 Millions of employees parked in cubicles dream about starting their own businesses. And in today's economy, countless unemployed professionals are becoming entrepreneurs out of necessity. They may have good skills and ideas, but do they really understand what it takes to build a profitable venture? As owner and co-founder of the award-winning It'sYourBiz.com (formerly SBTV.com, or Small Business Television), Susan Solovic has years of experience in the small business trenches. In It's Your Biz she shows prospective entrepreneurs how to sidestep the pitfalls that doom more than half of all new businesses while dramatically improving their odds of success.
The book strips away the usual dreamy calls to "pursue your passion," supplying the kind of candid, real-world advice readers truly need, such as how to: * Gauge whether you have the qualities required to succeed * Prepare for drastic culture shock * Build a business plan that works * Focus on providing market solutions * Choose partners, advisers, and employees wisely * Promote your business on a shoestring budget * Protect your company and yourself * Make the most of bootstrap financing. From planning and funding to promotion and pricing, It's Your Biz is packed with the practical, honest, expert guidance that budding entrepreneurs need before they set out on their own.
Suddenly in Charge: Managing up, Managing Down, Succeeding All Around
(Nicholas Brealey Publishing, 2011, 256 pages) by Roberta Matuson
As companies reorganize and reengineer, thousands of people are finding themselves tossed into management every day. The key to success is managing effectively both up and down the line of the organization. And Suddenly in Charge provides this unique approach with two books in one: read it one direction and you'll find all the tips and tools you need to manage down and establish credibility with your team; flip the book over and you'll find success strategies for managing up, the key to managing your reputation and your career. With a foreword by Alan Weiss, bestselling author of Million-Dollar Consulting, this handy little book is a must-have resource to help the new manager truly shine from day one.
How to Hire A-Players: Finding the Top People for Your Team- Even If You Don't Have a Recruiting Department
(John Wiley & Sons, 2010, 199 pages) by Eric Herrenkohl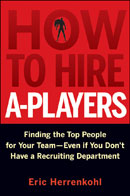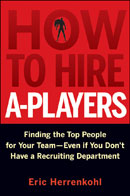 How to find great employees, make great hires, and take your business to the next level
It is always easy to find people who want a job, but it's never easy to find and hire A-players. In How to Hire A-Players, consultant Eric Herrenkohl shows owners, executives, and managers of small and medium-size businesses where and how to find A-player employees. It is these individuals who will help keep quality high and growth and profits strong.
Herrenkohl explains how to use your existing marketing, sales, and networking efforts to find top candidates. He provides current examples of companies that consistently hire A-players without big recruiting departments as well as step-by-step explanations for making these strategies work in your own company.
Shows you how to find and hire top employees.
Ideal for owners of small businesses, executives and managers of large businesses, as well as corporate recruiters and HR specialists who need new ideas
Herrenkohl's client list includes privately held businesses in over 50 industries as well as big corporate names like Bank of America, Edward Jones, and Northwestern Mutual Life
A-player employees are the life blood of any growing business. This handy hiring guide shows you where to look, what to ask, and who to hire to boost your business today
MOJO: How to Get It, How to Keep It, How to Get It Back If You Lose It
(Hyperion, 2009, 200 pages.) by Marshall Goldsmith with Mark Reiter
Mojo is the moment when we do something that's purposeful, powerful, and positive and the rest of the world recognizes it. This book is about that moment–and how we can create it in our lives, maintain it, and recapture it when we need it.
In his follow-up to the New York Times bestseller What Got You Here Won't Get You There, #1 executive coach Marshall Goldsmith shares the ways in which to get–and keep–our Mojo. Our professional and personal Mojo is impacted by four key factors: identity (who do you think you are?), achievement (what have you done lately?), reputation (who do other people think you are–and what have you've done lately?), and acceptance (what can you change–and when do you need to just "let it go"?). Goldsmith outlines the positive actions leaders must take, with their teams or themselves, to initiate winning streaks and keep them coming.
Mojo is: that positive spirit–towards what we are doing–now–that starts from the inside–and radiates to the outside. Mojo is at its peak when we are experiencing both happiness and meaning in what we are doing and communicating this experience to the world around us. The Mojo Toolkit provides fourteen practical tools to help you achieve both happiness and meaning–not only in business, but in life.
The Score Takes Care of Itself: My Philosophy of Leadership
(Portfolio 2009) by Bill Walsh with Steve Jamison and Craig Walsh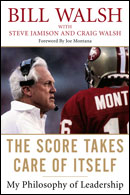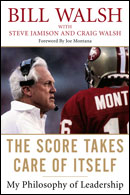 Practical insights on a wide variety of leadership and management topics from Bill Walsh, the three-time Super Bowl Champion coach of the San Francisco 49ers.
Development of Professional Expertise: Toward Measurement of Expert Performance and Design of Optimal Learning Experiences
(Cambridge University Press 2009) Edited by K. Anders Ericsson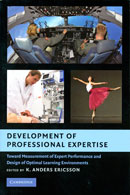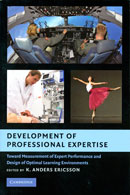 Professionals such as medical doctors, airplane pilots, lawyers, and technical specialists find that some of their peers have reached high levels of achievement that are difficult to measure objectively. In order to understand to what extent it is possible to learn from these expert performers for the purpose of helping others improve their performance, we first need to reproduce and measure this performance. This book is designed to provide the first comprehensive overview of research on the acquisition and training of professional performance as measured by objective methods rather than by subjective ratings by supervisors. In this collection of articles, the world's foremost experts discuss methods for assessing the experts' knowledge and review our knowledge on how we can measure professional performance and design training environments that permit beginning and experienced professionals to develop and maintain their high levels of performance, using examples from a wide range of professional domains.
Hit the Ground Running: A Manual for New Leaders
(Portfolio 2009) by Jason Jennings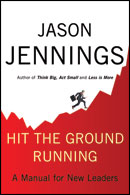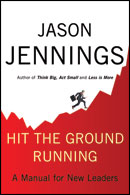 One of the toughest jobs in business is taking over as a new leader. Jennings and his research team offer lessons from 10 dramatic transformations and the CEOs who led them.
It's Not What You Sell, It's What You Stand For: Why Every Extraordinary Business is Driven by Purpose
(Portfolio, 2009) by Roy Spence with Haley Rushing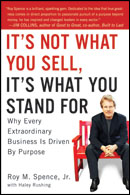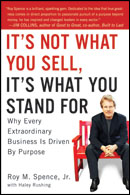 As one of the country's most successful ad execs, Spence is an expert on articulating a goal beyond making money. Now, the author shares his insider insights along with case studies to show readers how to discover their own purpose and apply it to everything they do.